Basic Breathing
A major part of flute playing is learning to manage the flow of breath from your body into the body of the flute. Much of the expressiveness of your music will come from the degree of control and flexibility you have in your breathing.
In flute playing, breathing is done mainly from the diaphragm, a muscle that extends horizontally across the bottom of the chest and presses against the bottom of the lungs. To find your diaphragm, push your stomach way out as you breathe in; then pull it way in as you breathe out. (Make sure you're not getting the directions backward!) The muscle that does that is the diaphragm, as it moves down to allow the lungs to fill (stomach out), then up to squeeze air out of them (stomach in).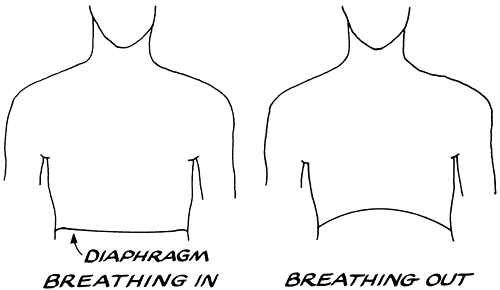 Here is an exercise to give you the feel for proper breathing: Stand erect, holding your elbows away from your body. Now push your diaphragm straight down, and your chest muscles slightly outward. The sensation should be that your entire upper body is a bellows that's filling up, evenly and all at once. Your stomach should not protrude very far forward, as it did in the initial exercise given above. Instead, there should be a slight expansion in the stomach, and a similar expansion in the small of the back, directly behind it. An even smaller expansion should be felt around the chest, in the front and back. There will be a very slight raising of the shoulders, but this should come only as a result of the chest expansion, without any movement of the shoulder muscles themselves.
Fill your lungs only as much as is comfortable, then exhale by reversing the above instructions. When you have the feel of the breathing, use it while blowing a note on your head joint.
Though this is actually a very natural way of breathing, many people do not normally breathe fully, and they may have trouble with it at first. You may have to build up the strength of your diaphragm slowly over a period of time. The extra oxygen in your system may cause dizziness and tingling feelings in your limbs, especially the hands. This is called hyperventilation. Beginning players usually aggravate the condition by using much more air than is necessary to produce the sound. Hyperventilation will stop bothering you as you get used to the extra air in your lungs and learn to blow more efficiently.