Here is a small selection of books and other offline resources on Mahatma Gandhi, the Gandhi Movement, nonviolence, peacemaking, simple living, and utopian societies. Most links are for more info at Amazon.com, an affiliate. Some out-of-print books and books published in India may be found at specialty booksellers and library collections listed on my Peace Page under Other Peace Resources.
Gandhi—General
Mahatma Gandhi, Publications Division, Ministry of Information & Broadcasting, Government of India, 1999. A CD‑ROM with interactive multimedia on Gandhi, plus Gandhi's collected writings—all 98 volumes in the original hardcover edition! Available from both GandhiServe (www.gandhiserve.com) and the Gandhi Book Centre (www.mkgandhi.org).
Gandhi—Books About Gandhi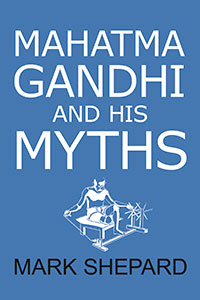 Mahatma Gandhi and His Myths: Civil Disobedience, Nonviolence, and Satyagraha in the Real World (Plus Why It's "Gandhi," Not "Ghandi"), by Mark Shepard, Shepard Publications, 2001. My own look at some persistently wrong-headed views of Gandhi. This was the 1990 Annual Gandhi Lecture for the International Association of Gandhian Studies.
Gandhi: His Life and Message for the World, Louis Fischer, New American Library, 1991. The most popular biography of Gandhi, by an American journalist.
The Life of Mahatma Gandhi, Louis Fischer, Collier, 1962. A much longer book of Fischer's, from which the one above was abridged. Perhaps the most comprehensive biography published outside India.
Gandhi, Geoffrey Ashe, Stein and Day, 1969. A personal favorite. Ashe, alone among Gandhi's biographers, understands and focuses on the British milieu of alternative thinking that formed Gandhi's intellectual roots.
Gandhi: A Photo Biography, Peter Rühe, Phaidon, 2001. A brief biography along with the finest, most extensive collection of Gandhi photos ever published. A real treat. (Note that the subtitle is found in publisher marketing info but not on the book itself.)
Gandhi, the Man: The Story of His Transformation, Eknath Easwaran, Nilgiri Press, 1997. A set of biographical essays, most notable for its fine collection of photos.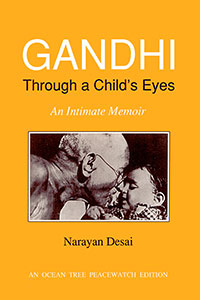 Gandhi Through a Child's Eyes: An Intimate Memoir, Narayan Desai, translated by Bhal Malji, edited by Mark Shepard, Ocean Tree Books, 1992. Memories of growing up in Gandhi's ashrams, by the son of Gandhi's chief secretary, Mahadev Desai. Shows a very human side of Gandhi.
Gandhi's Seven Steps to Global Change, Guy de Mallac, Ocean Tree Books, 1993. An inspirational handbook.
The Power of Non-Violence, Richard Gregg, Schocken, 1966. Gregg worked closely with Gandhi in India and understood his thought perhaps better than any other American.
Gandhi as a Political Strategist, Gene Sharp, Porter Sargent, 1979. Hard-boiled political analysis.
Vinoba on Gandhi, Vinoba Bhave, Sarva Seva Sangh, 1973. Vinoba, often called "Gandhi's spiritual successor," provides stimulating and sometimes controversial insights into Gandhi and his work.
Gandhi—Books By Gandhi
Most books by Gandhi himself are actually collections of articles on contemporary issues, taken from Gandhi's political journals.
All Men Are Brothers: Autobiographical Reflections, edited by Krishna Kripalani, Continuum, 1980. Brief passages from a wide range of Gandhi's writings. This UNESCO anthology is perhaps the best general introduction to Gandhi's ideas for the general reader.
The Gandhi Reader: A Sourcebook of His Life and Writings, edited by Homer A. Jack, Grove/Atlantic, 1995.
The Essential Gandhi: An Anthology of His Writings on His Life, Work and Ideas, edited by Louis Fischer, Vintage, 1983.
An Autobiography: The Story of My Experiments with Truth, Beacon, 1957. A selective account, up to the mid‑1920s. This book has inspired many, including Martin Luther King, Jr.
Satyagraha in South Africa, Navajivan, 1950. Gandhi's impressive early campaigns. Fills in details left out of his autobiography for the same period.
Non-Violence in Peace and War, 2 vols., Navajivan, 1948, 1949. Everything you wanted to know.
Non-Violent Resistance, Schocken, 1967. A more manageable collection than Non-Violence in Peace and War.
Hind Swaraj, and Other Writings, edited by Anthony J. Parel, Cambridge University, 1997. Hind Swaraj, or Indian Home Rule, was an early work, showing Gandhi at his most idealistic and utopian. A personal manifesto.
Economic and Industrial Life and Relations, 3 vols., edited by V. B. Kher, Navajivan, 1959 (revised edition). Included here are Gandhi's writings on small‑scale, decentralist economics. The ideas of Gandhi and his followers helped shape much of today's thinking about effective economic development in the Third World and were the biggest inspiration of the influential British economist E. F. Schumacher.
Basic Education, Navajivan, 1956. On Gandhi's own philosophy of education, based on using practical handcrafts as a springboard for academic study.
Gandhi—Movies
Gandhi, directed by Richard Attenborough, 1982. This, of course, is the ultimate Gandhi movie, winner of numerous academy awards, and richly deserving them.
Lage Raho Munna Bhai, directed by Rajkumar Hirani, 2006. A completely unexpected and thoroughly delightful look at Gandhi's continuing relevance, featuring a strong-arm man who finds himself visited by the spirit of the Mahatma. A huge hit in India, reviving interest in Gandhi among a new generation.
The Gandhi Movement
See also the reading lists at the ends of articles on my Peace Page.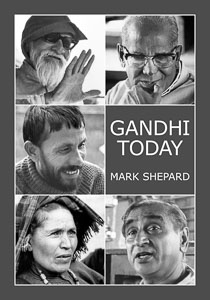 Gandhi Today: A Report on Mahatma Gandhi's Successors (25th Anniversary Edition), Mark Shepard, Simple Productions, 2012 (reprinted from Simple Productions and Seven Locks Press, 1987). My account of a visit with modern‑day Gandhians. With a foreword by Arun Gandhi.
Gandhians in Contemporary India: The Vision and the Visionaries, Ishwar C. Harris, Edwin Mellen Press, 1998. Profiles of today's Gandhians, focusing on a different branch of the movement than that featured in Gandhi Today. Seriously overpriced, so find it at your library.
The Struggle for Humanity: Agents of Nonviolent Change in a Violent World, Marjorie Hope and James Young, Orbis, Maryknoll, 1977. Includes chapters on Lanza del Vasto, Movement for a New Society, Danilo Dolci, Dom Helder Camara, Vietnam's Unified Buddhist Church, Kenneth Kaunda, and Cesar Chavez. Highly recommended.
In the Footsteps of Gandhi: Conversations With Spiritual Social Activists, by Catherine Ingram, Parallax, 1990. Includes such important figures as Cesar Chavez, Archbishop Desmond Tutu, Thich Nhat Hanh, and the Dalai Lama.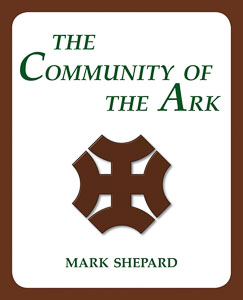 The Community of the Ark: A Visit with Lanza del Vasto, His Fellow Disciples of Mahatma Gandhi, and Their Utopian Community in France (20th Anniversary Edition), Mark Shepard, Simple Productions, 2011 (reprinted from Simple Productions/Ocean Tree Books, 1990). The account of my visit to a Gandhian community in France.
Nonviolence and Peacemaking
Great Peacemakers: True Stories from Around the World, Ken Beller and Heather Chase, LTS Press, 2008. Brief profiles of 20 historical and contemporary peacemakers, great for students or adults. For more info and supporting resources, see the book's Web site at www.greatpeacemakers.com.
A Force More Powerful: A Century of Nonviolent Conflict, by Peter Ackerman and Jack DuVall, St. Martin's, 2000. Detailed case histories of several successful movements of nonviolent resistance, including Gandhi's Salt March, the Polish Solidarity Movement, and Danish resistance to Hitler. A companion volume to the PBS series of the same name, available in video.
The Power of the People: Active Nonviolence in the United States, Robert Cooney and Helen Michalowski, Peace Press, 1987. The best available historical overview.
Courage in Both Hands, by Allan A. Hunter, Ballantine, 1962. Another classic collection of inspirational anecdotes.
America Without Violence: Why Violence Persists and How You Can Stop It, Michael N. Nagler, Island Press, 1982. An excellent introduction to principles of nonviolence.
The Search for a Nonviolent Future: A Promise of Peace for Ourselves, Our Families, and Our World, Michael N. Nagler, Inner Ocean, 2004. More from the author of America Without Violence.
The Politics of Nonviolent Action, Gene Sharp, Porter Sargent, 1973. A comprehensive review and analysis of methods and historical examples. Published in three volumes: Power and Struggle, Methods of Nonviolent Action, and Dynamics of Nonviolent Action.
Waging Nonviolent Struggle: 20th Century Practice and 21st Century Potential, Gene Sharp, Extending Horizons, 2005. More from the author of The Politics of Nonviolent Action.
Resource Manual for a Living Revolution, by Virginia Coover and others, New Society Press, 1977. A nonviolence training manual compiled by Movement for a New Society and used extensively in the American movement against nuclear power. Especially valuable for its treatment of team development and decision-making.
Handbook for Satyagrahis: A Manual for Volunteers of Total Revolution, by Narayan Desai, Gandhi Peace Foundation and Movement for a New Society, 1980. A nonviolence training manual written from a Gandhian standpoint. By a major figure in the nonviolence movement both in India and worldwide. (A Satyagrahi is a Gandhian nonviolent activist.)
Legacy of Love: My Education in the Path of Nonviolence, by Arun Gandhi, North Bay Books, 2003. Childhood memoirs of a grandson of Gandhi and founder/director of the M. K. Gandhi Institute in Tennessee.
Small Scale Alternatives and Simple Living
Small Is Beautiful: Economics as If People Mattered, E. F. Schumacher, Harper and Row, 1973. The extremely influential book of an economist most influenced by Gandhi.
The Case Against the Global Economy, edited by Jerry Mander and Edward Goldsmith, Sierra Club, 1997. Forty-three essays on the growth of the global economy and its economic, agricultural, cultural, and environmental effects. Selections from such respected writers as Ralph Nader, Richard Barnet, Wendell Berry, and Jeremy Rifkin.
Human Scale, Kirkpatrick Sale, Putnam, 1982. The most comprehensive collection of historical and contemporary information ever assembled in support of small‑scale economics and government.
Food First: Beyond the Myth of Scarcity, by Frances Moore Lappé, Ballantine, 1979. How world hunger is created not by poor farming conditions but by land monopoly, large-scale agriculture, and export economies.
Taking Charge of Our Lives: Living Responsibly in a Troubled World, by the American Friends Service Committee (San Francisco), edited by Joan Bodner, Harper & Row, 1984 (revised edition). Simple living as a political strategy as well as a personal lifestyle. Taking back control from large-scale corporations and returning it to individuals and communities. In the late 1970s, I worked with some of the authors of this book and led workshops on an earlier edition.
The Community Land Trust Handbook, Institute for Community Economics, Rodale Press, 1982. The community land trust was developed as an American version of the Gandhians' Land-Gift and Village-Gift movements in India. Among other things, it has been responsible for significant successes in land preservation.
The Spinner's Workshop: A Social History and Practical Guide, by John Mercer, Prism Press, 1978. Shows how Gandhi's economic ideas applied to Britain's own industrial revolution. (Published only in Britain, so you might have better luck at Amazon.co.uk.